Jerzy (George) Limon OBE, a Managing Director of the Gdańsk Shakespeare Theatre and a Professor of English at the English Institute, University of Gdańsk, is an extraordinary individual. Unlike most professors who dwell in their ivory towers, Professor Limon is an impressive man of action. Almost single-handedly, he has spearheaded the construction of the Gdansk Shakespeare Theatre, which is modeled on the local 17th century fencing school (that some believe Shakespeare actually visited). A few believed he'd achieve his dream. Even his supportive wife confessed, that deep down she did not think the project would ever be achieved. Despite the odds, the massively impressive reconstruction of the Fencing school and theatre have been the hub of impressive European productions of plays. Professor Limon is also Artistic Director of the Gdańsk Shakespeare Festival that takes place every summer.
I was fortunate to attend last summer's Gdańsk Shakespeare Festival and this year a mini festival of four polish superb productions of the Israel playwright Hanoch Levin.
Rivka Jacobson:  When were you awarded the OBE – and how did you find the queen?
Professor Jerzy Limon: I was awarded the OBE in 2014, but the ceremony took place early in 2015. Unfortunately, that did not take place in Britain, so it was not Her Majesty who presented the award, but her Ambassador. However, I had the honor of meeting the Queen some years back, when she came to Poland, invited by the then President, Aleksander Kwaśniewski. Our First Lady, Jolanta Kwaśniewska, was a great supporter of our theatre project, and she invited me to state dinner in honor of Her Majesty. After dinner, the guests were led to another room, where all of the sudden I found myself conversing with the Queen, being first introduced by Mrs Kwaśniewska. At first I told the Queen about our theatre project in Gdansk, stressing its similarity to the Globe project in London. Her Majesty knew about the Globe, but seemed more interested in another topic that we touched, i.e. the War. Two of my uncles were in the RAF during the war, and Her Majesty stressed the role that Polish pilots played in winning the Battle of Britain. The whole conversation took about ten minutes, and I was not only honored but pleased to find that Her Majesty had such vivid memory of times that seemed long passed.
RJ: When and how were you first introduced to Shakespeare's writing and was it love at first sight?
JL: I do not suppose I would call it "love" – I am immune to emotional attitudes in theatre or literature. I think it was Romeo and Juliet that I first saw on the stage in my school years. But my serious interest developed during my university years, thanks to Professor Henryk Zbierski, a great Shakespeare scholar.
RJ: How did the idea come about to build the Gdansk Shakespeare Theatre?
JL: It was a matter of chance or serendipity. I was reading a historical book and I came across a seventeenth century engraving showing a public playhouse in old Gdańsk, and what struck me was the similarity of the form to the Fortune theatre in London. I started investigating, only to find out that Gdańsk was in fact an important centre of English players' activity in that period. This eveolved into serious research, and I wrote my PH.D. on the subject. Later, an expanded version was published in Britain by CUP (Gentlemen of a Company, 1985).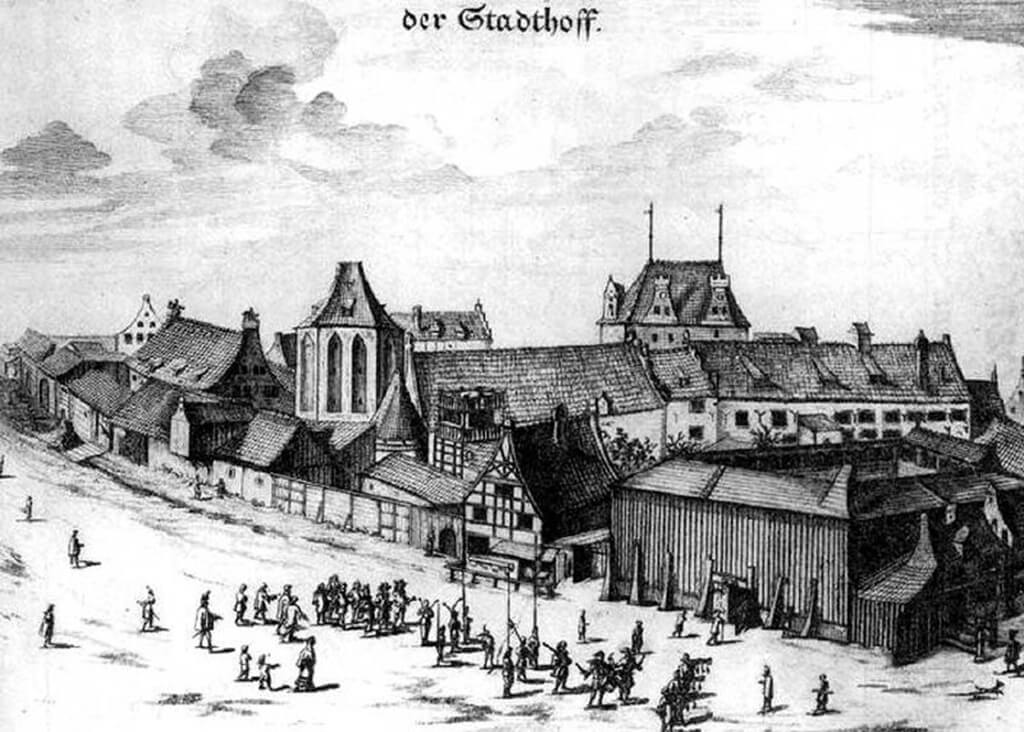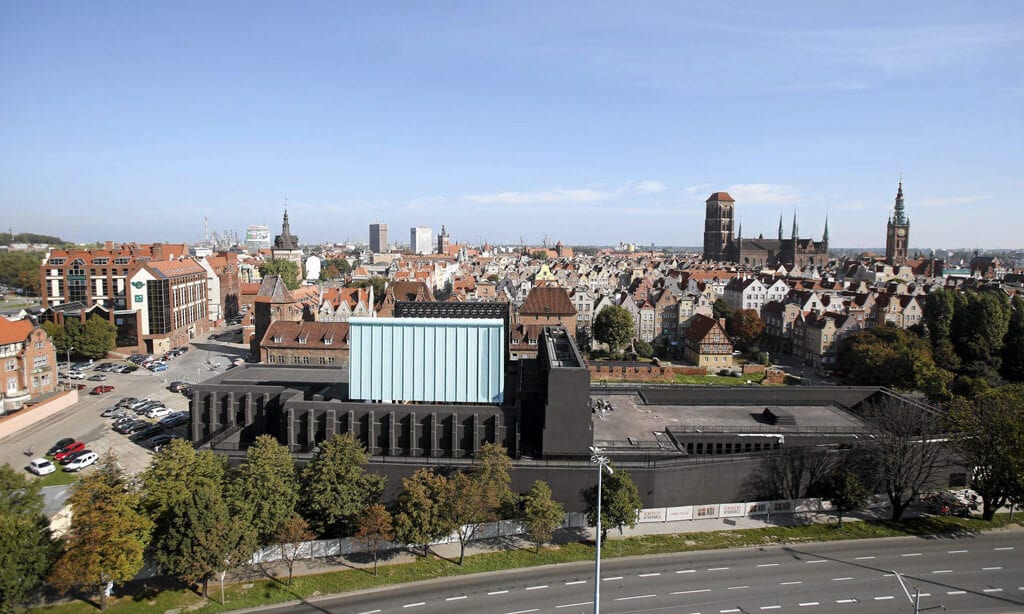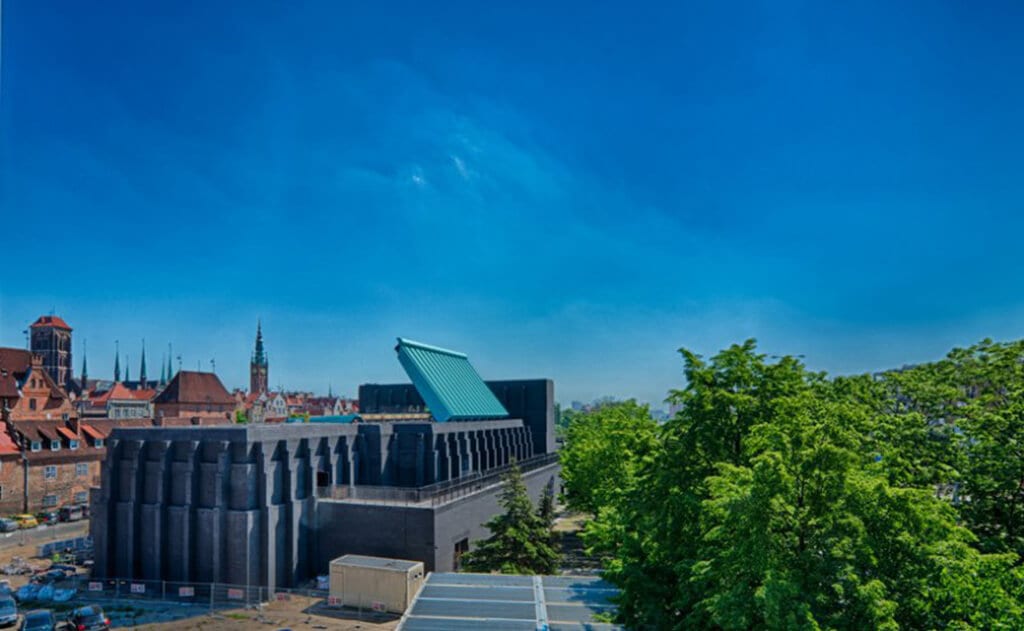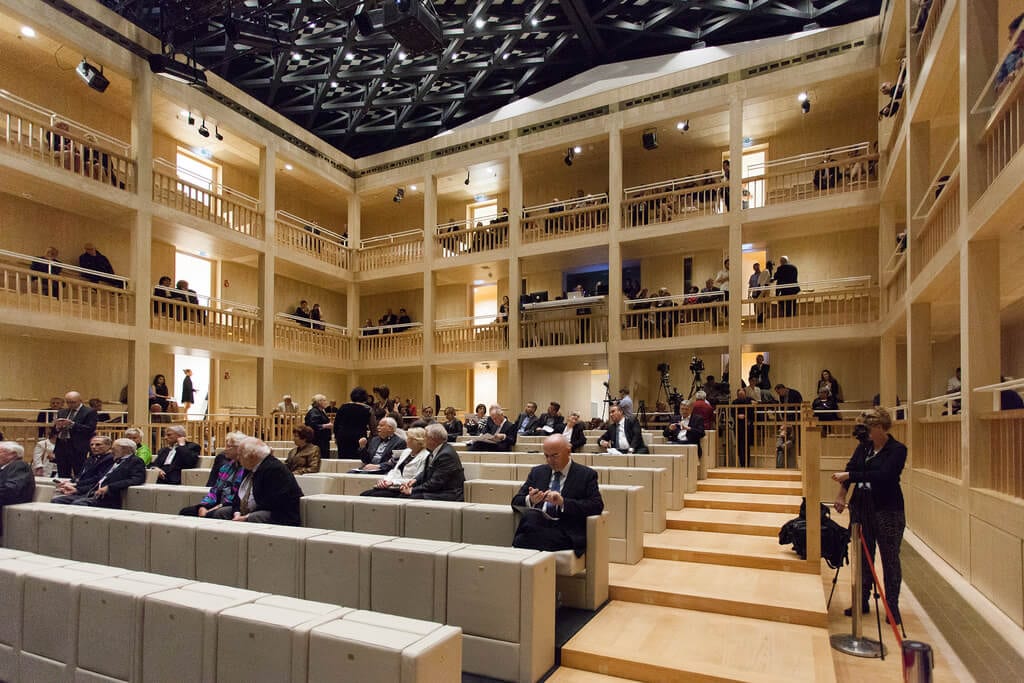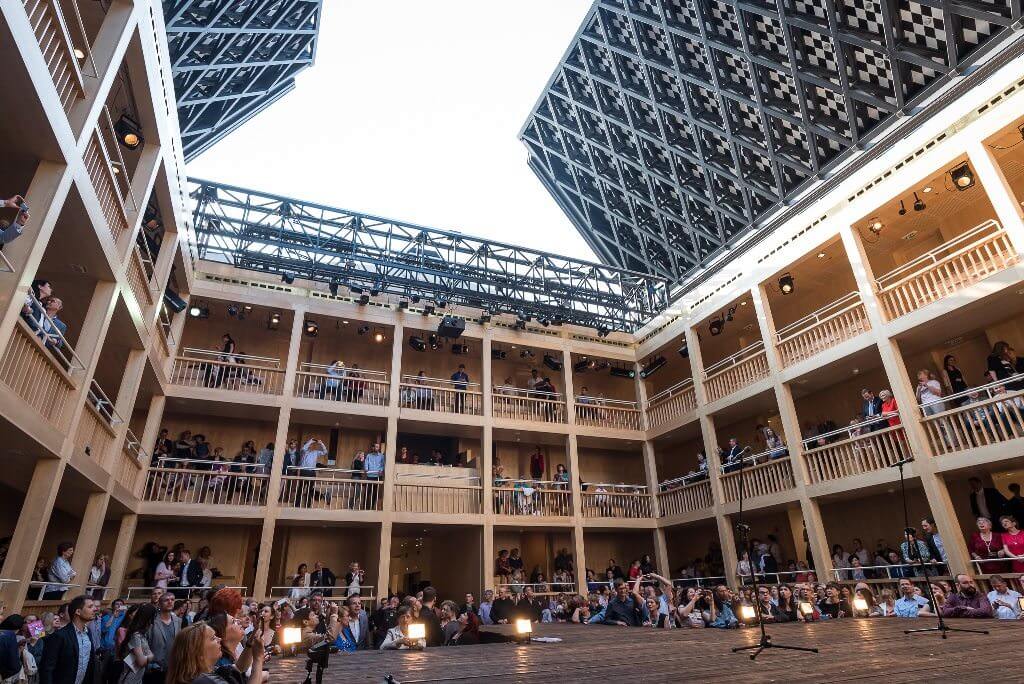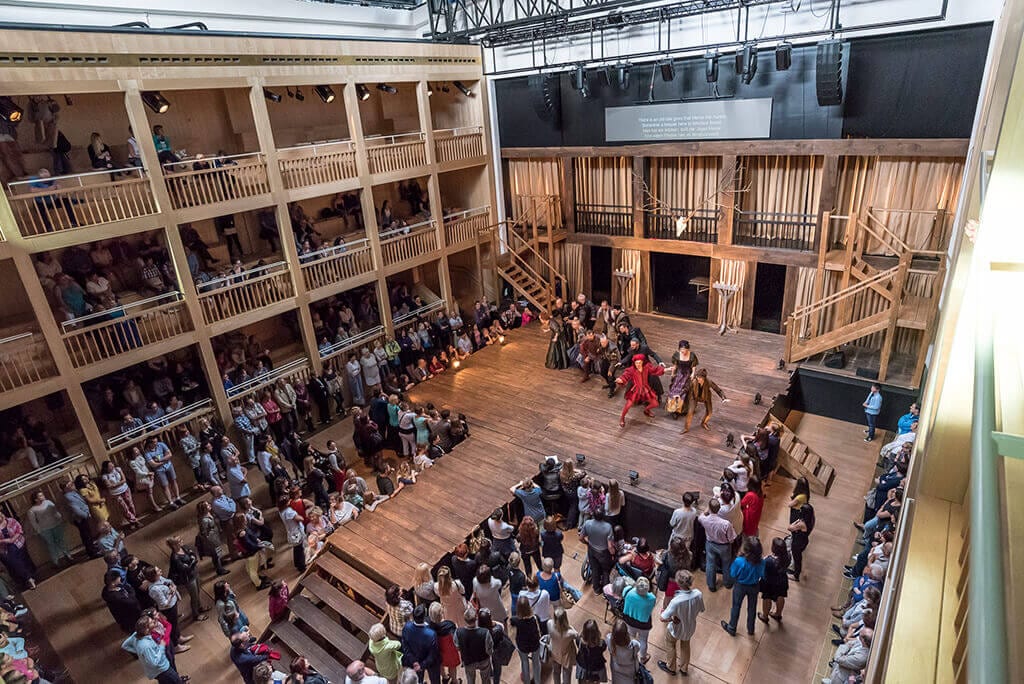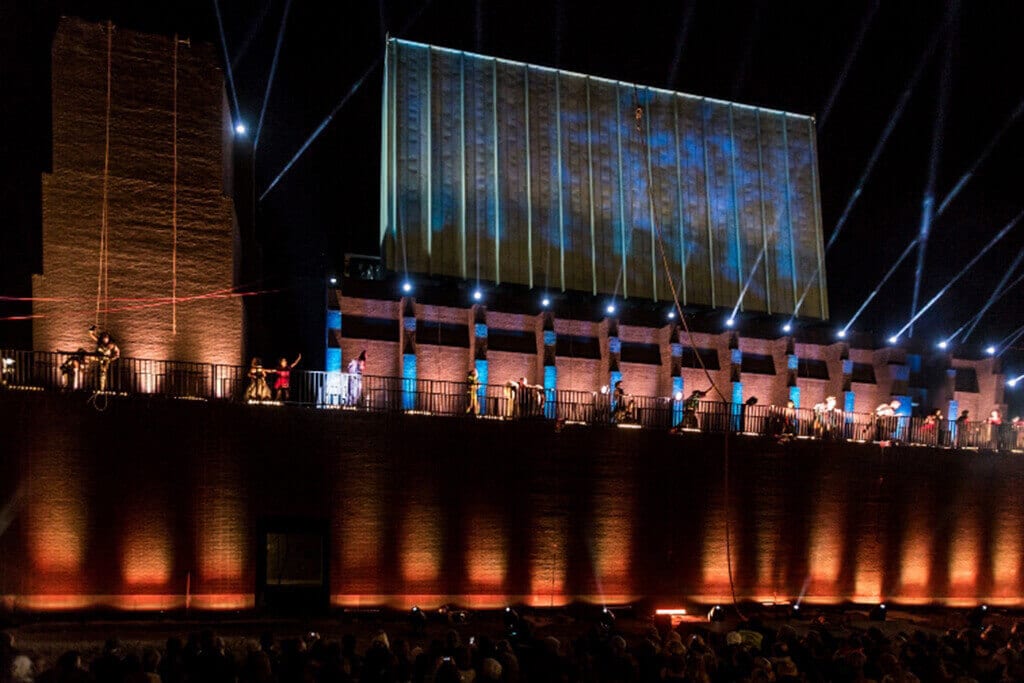 RJ: Why did you choose this particular architectural design for the theatre?
JL: Actually, it was not my decision, but of a team of competition judges. The decision was unanimous, and based on the judges' conviction that Renato Rizzi's design was of unique and singular artistic quality.
RJ: How long did the project take from conception to completion?
JL: The judges' decision was announced in January 2005, the construction began in 2011, and was completed in 2014.
RJ: What challenges did you face?
JL: The design evoked controversies on every level one can imagine, so we had to fight our way through all sorts of obstacles and hostilities. On the other hand, we enjoyed the support of many individuals and institutions, without whom we would have never managed to complete the project. The financial aspect was essential. Luckily, in 2005 the Ministry of Culture announced a competition for large investments in culture, but in order to apply, we had to have the construction design ready, building license obtained, and a bank guarantee that we would be able to finance 25% of the whole. All of this was beyond the reach of an NGO, so together with the city of Gdansk and the Region of Pomerania we set up an institution, The Gdansk Shakespeare Theatre, which applied for the ministerial funding. And we got it! I remember having lunch with Elizabeth Le Compte in a French restaurant in Sopot, when my phone rang with the news that we got over ten million pounds for the project.
RJ: Did you ever doubt you would achieve your goal?
JL: As an NGO we had to undergo all humiliations and crisis you can imagine. I had some doubts at certain moments of our history, but we have reached a point beyond which I could not back out, I could not say that I am bored, or just had enough.
RJ: The theatre is called the "Gdansk Shakespeare Theatre" does it exclusively stage plays by Shakespeare?
JL: By no means it is only for Shakespearean productions. Shakespeare is in the summer, when we organize the Shakespeare Summer, which includes our international Shakespeare Festival, an annual event, usually ten day long. During the summer we stage our own productions: last year it was The Merry Wives of Windsor, and this coming summer we add Kiss Me Kate, both being co-productions with local theatres.
RJ: You hold a summer Shakespeare festival. Can you tell us more about it?
JL: This coming summer we shall have the 20th edition of the Festival It is really something to celebrate. During all these years, we have hosted c. 240 different productions from c. 40 countries!  We have shown plays directed by the best directors in the world, and enacted by some of the best theatre actors. Our educational programme has covered all sorts of topics connected with Shakespeare and theatre in general, enriched by workshops, summer camps, lectures and the like. I think we have educated a whole generation of theatre-lovers, and we have proven that education is the key in saving today's technocratic world from insensitivity and aesthetic blindness.
RJ: What are your plans for the future?
JL: Our goal is to create an important international centre of theatre, art and education, one of those worth visiting at any time of the year. This is not an easy task, even if we manage to raise sufficient funds. Funding is simply not enough to make ourselves visible in the highly competitive theatre world. Gdańsk is not yet recognized as an important cultural centre of Europe. So, we have to find ways and new techniques of promotion. Our theatre as a building is a very important asset: being the winner of several important awards, it has evoked unbelievable interest in architectural circles, with more than 50 articles in specialized journals around the world, and it is mandatory to transform that interest into a tourist destination. We try to raise interest by organizing original artistic events. Not only the Festival, but events that leave the enclosed theatre space, and enter into the public space. For instance, as part of the Shakespeare 400 celebrations we organized a march of 400 costumed mourners through the old town of Gdańsk; this was met with great media response, and, again, we had world-wide coverage. Had we organized a conference or a first-night of yet another Shakespeare production, we would not have attracted anyone's attention: this proves that we have to look beyond the ordinary or routine, and combine originality with artistry. Romance was in the air pre-show.
RJ: Where does your fascination with one of the most outstanding Englishmen come from?
JL: Of course it's hard to give a precise date, everything started during my studies in Poznań. My teacher and maestro was Professor Henryk Zbierski, an expert on Polish and English literature and on Shakespeare, as well as the author of a history of English literature and books on Shakespeare. When I attended his seminars, it was his knowledge, which impressed me, and his absolute dedication to science which caused me to go in that direction.
Jerzy Limon is a full Professor of English at the English Institute, University of Gdańsk, Poland. His main area of research includes history of English drama and theatre in the sixteenth and seventeenth centuries, and various theoretical aspects of theatre. He has published widely on various topics, and his output includes three academic books in English (Gentlemen of a Company, Dangerous Matter, and The Masque of Stuart Culture), five books that have appeared in Polish, over a hundred articles and reviews, and four published novels. Limon is president of Theatrum Gendanense Foundation and Managing Director of the Gdańsk Shakespeare Theatre, a project which has begun the reconstruction of an Elizabethan-in-style theatre in Gdańsk. Limon is the Artistic Director of the Gdańsk Shakespeare Festival.